Sports for people with a disability
Do you have a disability and would you like to find a sports or exercise class? Then you can visit the Beweegloket. You can even look online for a sport or physical activity which is suitable for you. Or you can get free advice from specialists.
It is important to the municipality that residents of The Hague with a disability get enough sport and exercise. Exercising regularly has a positive influence on your health. It improves your condition and helps to expand your circle of contacts.
Who is it for?
The Beweegloket provides personal advice and helps people with a hearing or visual impairment as well as with people with impaired motor skills or intellectual, psychosocial or chronic disabilities. People who are overweight can also consult the Beweegloket.
Sport clubs can also get advice on doing sports with a disability. Go to Advies aan sportverenigingen (in Dutch).
Is the Beweegloket something for you?
Do you have a disability and would you like to be active, but is there something stopping you? Or can you relate to 1 or more of the statements or questions below? Then the Beweegloket can help you.
I am not sure which sports I could do.
I am nervous about exercising and doing sports.
I am afraid I will not be able to do anything.
Will I be able to pay for it?
I have no transportation to the sports or exercise class.
Will I get proper supervision?
How can I acquire special sports equipment?
I find it difficult to go to the exercise class or sport club alone.
What does it cost?
The Beweegloket is free.
How does it work?
You can look for a sport or activity yourself on the website unieksporten.nl. Or you can get advice from the specialists at the Beweegloket.
Find your sport online
Indicate what kind of disability you have.
See which sports and exercise classes there are for you in The Hague
Get advice
You can make an appointment with a specialist at the Beweegloket. The appointment can take place at the Beweegloket in the Zuiderpark sport campus, at your home or at another suitable location.
During the appointment you can discuss what you want and the possibilities with the specialist. Together you will look which sport or exercise is best for you.
If you would like, the specialist can contact the sport club or exercise class for you. The specialist can also match you up with a buddy who will go with you the first couple of times. Are you enjoying this type of activity? Great! If not, the specialist will help you look for a different sports or exercise class.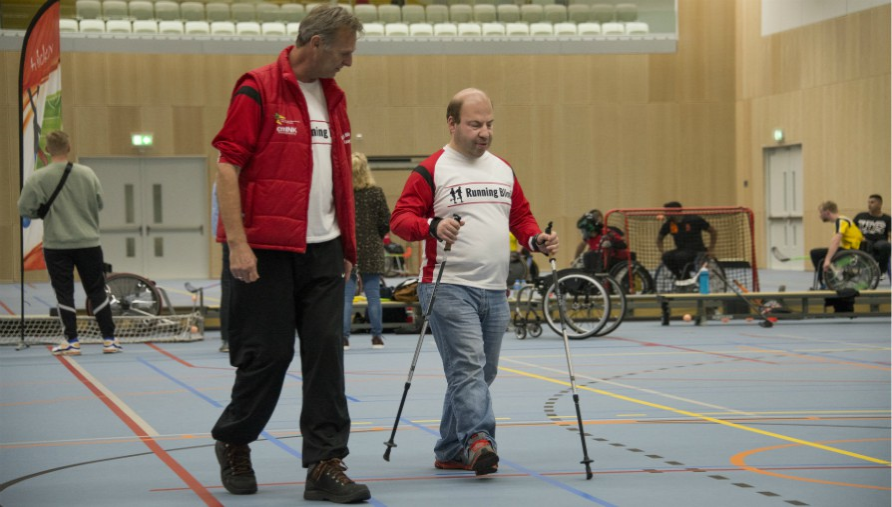 Who will help you?
There are 2 specialists at the Beweegloket who will help you. Soraya Samuels and Simone Hoek have years of experience motivating, advising and supporting residents of The Hague with a disability. The main idea is that you enjoy it.
Special sports equipment
Do you have a disability which requires you to use special equipment to do sports? Apply to the municipality for compensation or a discount. To do this you can apply for Wmo support .
Are you unsure if the sport or exercise is right for you? Then you can first borrow the special sport equipment and try it out for a short time. This way you can see which equipment and sport or exercise suits you best. And if the sport club is the right one for you. You can find more information on the website of Mobilitheek(External link) .
Ask a question or make an appointment
Do you have a question or would you like to make an appointment? Send an email to beweegloketdenhaag@unieksporten.nl or call tel. 06 28 87 01 31. The specialists can answer some questions by email or by telephone. For other questions you can make a personal appointment.
Visiting address
Sportcampus Zuiderpark
Meester P. Droogleever Fortuynweg 22
2533 SR The Hague
More information
Would you like to know what else the municipality is doing to make sports and exercise possible for people with a disability? Send an email to sportsupport@denhaag.nl .