Public transport
The Hague boasts an excellent public transport system. Over 30 bus and tram lines will take you quickly and safely to your destination in and around The Hague. This page provides handy information on travelling around The Hague hassle-free.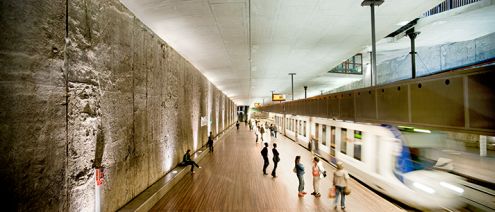 Bus and tram
The principle operators of bus, tram and the RandstadRail light rail link services in The Hague region are HTM and HTMbuzz. HTMbuzz also operates several night buses. For information in English on the website of HTM, visit htm.nl/english(External link). You can also download the HTM app for Android(External link) or HTM app for Apple(External link) (only in Dutch). For up-to-the-minute travel disruption updates in The Hague, visit @HTM_ReisInfo(External link). The updates are written in Dutch and are available even if you are not registered on X. Other bus operators in The Hague region are Arriva(External link) and Connexxion(External link).
P+R
Like other metropolitan areas, The Hague has a number of park-and-ride facilities both at the edge of the city as well as in the city. There you can easily park your car and then take public transport or hire a bicycle to get to the city centre and Scheveningen and Kijkduin beach.
Train
The Netherlands has an extensive network of railways. The Nederlandse Spoorwegen, or NS(External link), is the Netherlands Railway company and one of the most modern in Europe. Travelling by train has many advantages: trains in the Netherlands are most often on schedule, they are very comfortable and clean and most of the staff speaks English. The NS operates a night train(External link), which stops at the Den Haag HS station. Most train stations in the Netherlands also allow you to rent an OV-fiets(External link) to cycle to your destination.
The Hague has 6 train stations all offering good connections with other forms of public transportation:
Den Haag Centraal (CS)
Den Haag Hollands Spoor (HS)
Den Haag Mariahoeve
Den Haag Laan van NOI
Den Haag Moerwijk
Den Haag Ypenburg
Paying for public transport
You can pay for all train, bus, tram and metro lines throughout the Netherlands with OVPay. You check in and out by using your contactless debit card, credit card or mobile. This is another way of paying, in addition to the plastic OV-chipkaart(External link). If you are unable to use OVPay or an OV-chipkaart, you can purchase other types of tickets for travel on HTM trams and buses including a day ticket, 3-day ticket and tourist day ticket. Visit the website of HTM(External link) for more information about paying for public transport and the types of tickets available. For more general information in English on fares and public transport, visit the website of 9292.nl.(External link)
Travel planner
Use the 9292(External link) door-to-door journey planner to plan your door-to-door itinerary by public transportation. Also see for more tips on reaching your destination hassle-free.
Taxi
It is often possible to hail a taxi in the street. But you will also find special taxi stands at the train stations and various points throughout the city. Or you can order a taxi by app or telephone. If you wish to file a complaint about poor taxi service(External link), contact the taxi company directly.
One taxi company, RegioTaxi Haaglanden(External link), offers a price which is between that for normal public transport and a taxi. You can use the service 7 days a week between 6.00 and 1.00 hrs. RegioTaxi is available to everyone and it is suitable for disabled and less mobile passengers.
The AV 070 is special for disabled residents of The Hague who are unable to use public transportation. The van service operates within the municipalities of The Hague, Rijswijk and Leidschendam-Voorburg. An AV 070 pass is required.
More info