House rules in the swimming pools
You are more than welcome in the swimming pools. The municipality would like everybody who is going swimming to have a nice time and feel safe. This is why there are a number of house rules. Make sure you know the rules and follow them.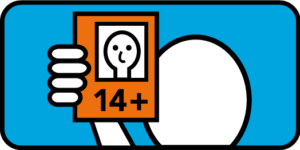 If you are 14 years or older, you will get a free personal swimming pass the first time you visit a swimming pool. To get the swimming pass you will need to show a valid ID at the cash desk of the swimming pool. The pass is valid in all of The Hague's swimming pools. Take it with you every time you go swimming.
Rules in the swimming pool
The cash desk closes 30 minutes before the end of the activity.
Always follow the instructions of the staff and water safety managers.
Swimmers must wear proper swim attire.
You are allowed to enter the pool area only if you are barefoot or wearing slippers or sandals.
Do not run in the pool area.
Glassware is not permitted in the pool area.
Use the lockers to store bags and other personal items.
Filming or taking photos of people in the swimming pool is only permitted when they are members of your group. Take into consideration the privacy of all other visitors and staff.
It is strictly forbidden to take photos and/or videos in the changing rooms. Violating this rule can result in being denied admission to the swimming pool. 
Swimming safety
Children who do not have a swimming certificate are only allowed in the shallow pools. They must be accompanied by a person (in swim attire) who is 18 years or older and can swim well. A maximum of 2 inexperienced swimmers are allowed per 1 adult of 18 years or older.
Children who do not have a swimming certificate are required to wear inflatable armbands. There are time slots during recreational swimming and family swimming when you can practice swimming with your child without inflatable armbands. You can see where and when this is possible under the

opening hours for the swimming pools

.
Children must have at least an A certificate to be able to swim on their own.
General
For your safety and for the safety of staff, there is video surveillance.
Verbal abuse and/or physical violence will not be tolerated.
Intimacy of any kind, whether desired or undesired, will not be tolerated.
You may not be in the changing rooms or by the lockers without a valid reason.
Management is not liable for any loss, damage and/or theft of your property.
Management is not liable for bodily injury in and around the buildings.
The police will always be notified in the event of a criminal offence. Breaking these house rules can result in being barred from the swimming pools.