Rotterdamsebaan
The Rotterdamsebaan is the new road between the Ypenburg exchange and the Centrumring (central ring road) in The Hague. Part of the Rotterdamsebaan includes the Victory Boogie Woogie tunnel. The road opened to traffic in February 2021.
The Rotterdamsebaan was constructed to ensure good accessibility to The Hague and the region as a whole now and in the future. The new route is advantageous in particular for cars driving to and from Rotterdam, Delft and Ypenburg. It offers a better distribution of the traffic flowing to and from the motorways, relieving the pressure on Utrechtsebaan. The result will be fewer delays during rush hour.
Route
The Rotterdamsebaan is 4 kilometres in length and it connects the A4/A13 motorways with the Centrumring in The Hague. The route starts at the Ypenburg exchange with a tunnel under Voorburg and emerges at the Binckhorstlaan. There the road connects to the Mercuriusweg at the Centrumring. Cars driving from Rijswijk or Ypenburg can use the Laan van Hoornwijck to get to the Rotterdamsebaan.
Sustainable tunnel
The Victory Boogie Woogietunnel is 1 of the most sustainable tunnels in Europe. The design incorporates:
efficient use of energy
re-use of materials
absorption of traffic noise and
collection of fine-particle emissions from traffic at either end of the tunnel
The solar panels on the roof of the service building located at the mouth of the tunnel in the Vlietzoom area provide 1 of the most striking energy-saving measures. They generate enough energy for the service building. Service personnel work from this building to monitor and operate all the tunnels, bridges and retractable traffic barriers in The Hague 24 hours a day, 7 days a week.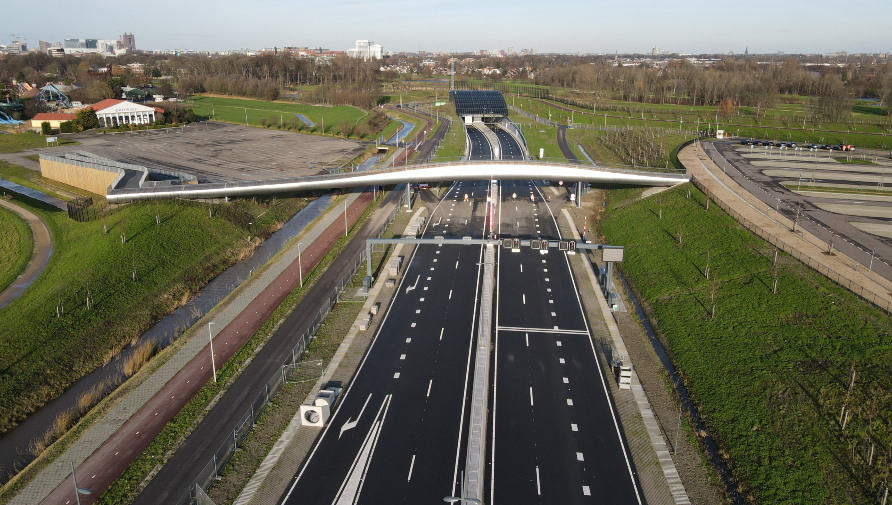 More information
Watch the videos about the Rotterdamsebaan (YouTube channel of the municipality)(External link)